PRODUCT INFORMATION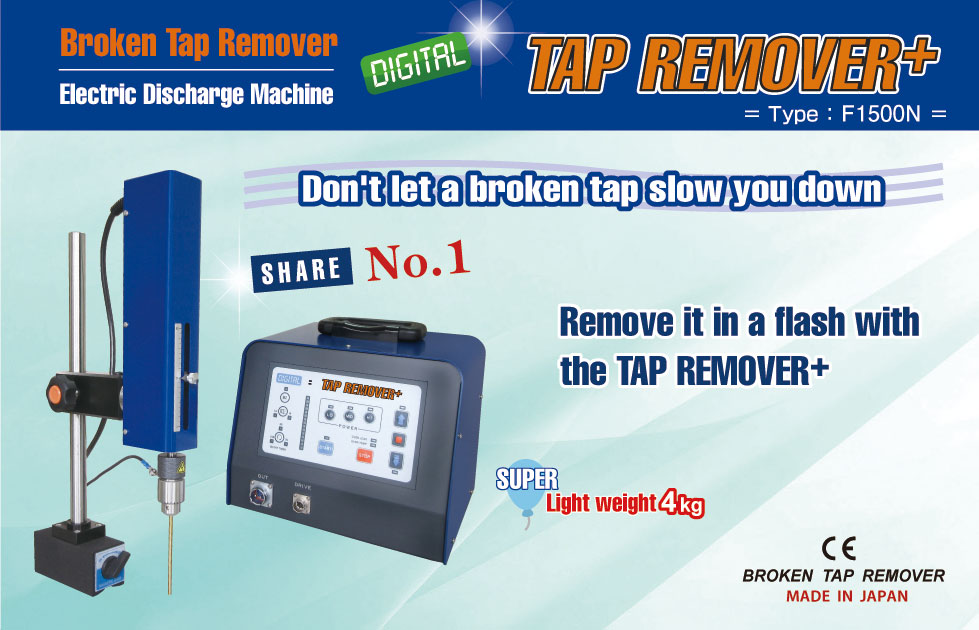 Broken Tap Remover Electric Discharge Machine
● Unbeatable for removing broken taps and drill bits !
● New computerized power supply unit with touch-sensor panel !
● Twice the speed of previous models !
FEATURES
●Removes taps of any size, M2-30
●Suitable for use with workpieces of any conductive material.(aluminum,brass,copper,cast iron,stainless steel,special steel,etc.)
●Automatically stops at a specified machining depth, pulls out and sounds  a buzzer when machining is complete.
●Overlord alarm function prevents damage to the EDM head by automatically stopping the head's downward motion upon meeting a specified resistance.
●Short timer function stops machining automatically when there is a  short of specified 3,7 or 10 seconds duration.
●Rotating EDM head.
MOVIE
How TAP REMOVER
Spiral taps too! How TAP REMOVER gets taps out of your way.
OVERHEAD VIEW

CROSS SECTION
To remove a broken tap end that is stuck in a hole, make a hole in its center using an electrode of one-half the diameter of the tap. Removing the tap in pieces leaves the threads intact.
Examples of Versatility
SMALL WORKPIECE

Submerge workpiece in work tank.

LARGE WORKPIECE

Create a pool on the workpiece surface using putty.

NON-VERTICAL MACHINING

Supply a flow of water while machining.
DIMENSIONS AND SPECIFICATIONS
Power Supply Unit

| | |
| --- | --- |
| Weight | 4Kg |
| Dimensions | 250×220×210 |
| Power Supply | AC 85~264V 300W |

EDM Head

| | |
| --- | --- |
| Weight | 6Kg(Including magnet stand) |
| Dimensions | 50×250×430 |
| Z-axis stroke | 100mm |
| Electrode holder (SUS chuck) | MAX Φ6.5 |
MACHINING SPEED
| Tap size | Machining depth | Time Required | Electrode Diameter |
| --- | --- | --- | --- |
| M 6 | 10mm | 5min | Φ3 |
| M 10 | 10mm | 10min | Φ5 |
OTHER APPLICATIONS
●Pre-hole drilling of workpiece for wire cut
●Cutting for Tungsten carbide workpiece

STANDARD FIXTURES
●Power Supply Unit
●EDM Head
●Magnet Stand
●Special putty 150g(5×50×450)
●Electrodes(brass rod)
 2 rods each : Φ1.0・Φ1.5・Φ2.0・Φ2.5・Φ3.0
 1 rods each : Φ4.0・Φ5.0・Φ6.0